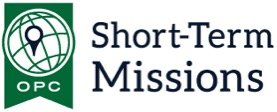 Short-Term Missions
Short-Term Missions Opportunities in the OPC
Janet Birkmann
Click below for an overview of many of the various short-term missions opportunities available in the OPC throughout the year. Each thumbnail sketch includes some basic details, a contact name, as well as links to further information. A printable PDF of the entire overview is also available.
OVERVIEW:
Click here for an overview of all STM opportunities.
WEBSITE:
Visit www.opcstm.org to learn more about short-term missions in the OPC!
Copyright © 2018, The Orthodox Presbyterian Church. All Rights Reserved.