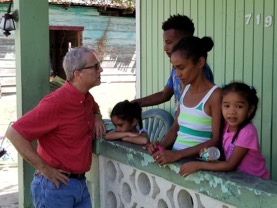 Short-Term Missions
Puerto Rico Report: Don't Forget Us
David Nakhla
"Don't forget us!" … was one of the responses we received when we asked the OP church leaders in Puerto Rico what message they would like the rest of the OPC to hear.
Rev. Dick Ellis, representing the Presbytery of New Jersey, to which the OP churches in Puerto Rico belong, joined me on a trip to Puerto Rico, from Saturday, October 7 through Thursday, October 12, 2017.
We sought to bring encouragement to the leaders and members of the OP churches in Puerto Rico. We assessed the damage from Hurricane Maria, and began to plan how OPC Disaster Response might bring relief to our churches there.
EXCERPT from Initial Reflections Upon Return from Puerto Rico:
Can you imagine what your day would be like without cell phone service, internet, email, electricity, refrigeration, or water?
Puerto Ricans are losing income because their employers also don't have power, phones, or internet.
There are thousands and thousands of downed poles that have not been re-set yet. It could be years before the instrastructure is up and running again.
Their way of living has been set back a century. Life has become focused on the most basic day to day necessities of life.
Trying to figure out where to get water to bathe or to flush the toilets, some who are without water are contriving ways to gather rain water or pull from streams.
Suddenly, washboards are in high demand, because they are washing their clothes by hand!
Driving at night without any street lights or traffic signals is dangerous, not to mention the security concerns of pitch black neighborhoods and apartment buildings.
Loss of tourism will have a huge economic impact.
The escape valve for young Puerto Rican families is to head to the States. This could have a huge impact on our churches there.
... and more ...
Click here for Full Report and Photo Gallery!
PHOTO: Dick Ellis at the home of a church family
David Nakhla
OPC Disaster Response Coordinator
Administrator, Committee on Diaconal Ministries
david.nakhla@opc.org
Primary Phone: Cell (562) 760-7606
Secondary Phone: Office (215) 935-1006
Facebook: OPC Disaster Response
Website: OPCDisasterResponse.org