Today in OPC History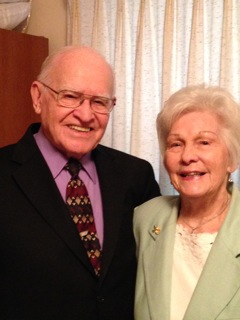 May 3
G.I. and Doris Williamson
On this day in 1944, Gerald Irwin (G. I.) and Doris Short Williamson were married.
A native of Des Moines, Iowa, G. I. Williamson was educated at Hope College, Drake University, and Pittsburgh-Xenia Theological Seminary (where he earned a Bachelor of Divinity degree in 1952). He and Doris traveled extensively as he ministered in four Reformed denominations (United Presbyterian Church of North America, the Associate Reformed Presbyterian Church, the Reformed Churches of New Zealand, and the Reformed Presbyterian Church of North America) before eighteen years of pastoral service in the OPC, serving in Carson and Lark, North Dakota.
Williamson also held long tenures on General Assembly committees, including 23 years on the Committee on Christian Education and 17 years on the Committee on Ecumenicity and Interchurch Relations. His labors as editor of Ordained Servant mentored many ministers, elders, and deacons in coming more fully to understand Presbyterian faith and life. Above all, he is familiar throughout the OPC for nurturing many in the church in their comprehension of and devotion to its doctrinal standards, through his study guides on the Westminster Confession of Faith and Westminster Shorter Catechism.
On November 14, 2017, Doris went to be with the Lord in glory.
- 2016 Appeared