Today in OPC History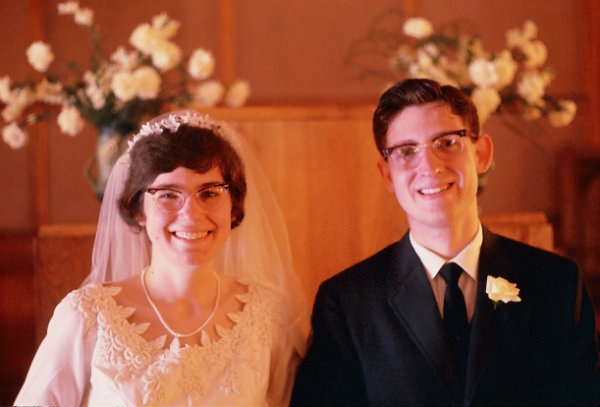 June 25
Allen and Miriam Moran
History major Allen Pearl Moran, Jr., and English major Miriam G. Cox met at Gordon College. After graduating in 1965, they married on this date in 1966. Allen earned his masters of art degree in history at Northeastern University in Boston, Massachusetts, in 1967, then taught history at a nearby community college. Although both were baptistic in background, they became members of First Presbyterian Church, North Shore, in Ipswich, Massachusetts, under the ministry of Rev. Wendell Rockey, Jr. Allen went on to study church history and earned his bachelor of divinity from Westminster Theological Seminary in 1972.
At WTS Allen was challenged to consider the pastorate, which he did while working on his uncle's farm in Iowa for two years. In 1974, he accepted a call as pastor of Westminster OPC in Hamill, South Dakota, and was ordained by the Presbytery of the Dakotas on October 17, 1974. After serving four years, Allen was pastor of Rocky Mountain Community OPC in Billings, Montana, from 1978 to 1980. He then ministered at Westminster OPC in Santa Cruz, California from 1981 to 1990. In 1994 he became the associate pastor of First OPC in Sunnyvale, California, before taking his final pastoral call to Calvary OPC in Harrisville, Pennsylvania from 1994 through 2000. Since then, he served as principal of Jubilee Christian School in Grove City, Pennsylvania, then substituted in public schools until he retired in 2012. Allen has also served twice as moderator of the Presbytery of Northern California and Nevada.
In each church, Miriam played the piano or organ and taught Sunday school. She is the daughter of Eric and Grace Cox, who served as missionaries to China with the China Inland Mission. During World War II, Miriam was seven months old when her parents fled the Japanese as machine gun fire strafed the countryside. Forty years after her mother's death, Miriam found a box of her mother's letters, matched them to those of her father, and wrote her mother's story, Someone to Be with Roxie. Recently the Morans moved to Stone Mountain, Georgia, where they enjoy being near their daughter, Grace, her husband, and three young children.