Today in OPC History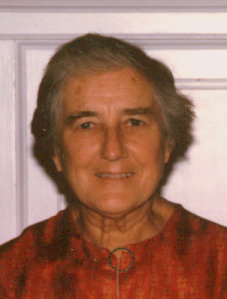 December 10
Rebecca Mullen
When Rebecca Brandiff Mullen entered her heavenly rest on this date in 2012, she had faithfully served the Lord for most of her one hundred years. Born on September 10, 1912 in Vineland, New Jersey, Rebecca professed faith in Christ while attending Newfield Baptist Church in nearby Newfield. She graduated from Glassboro Normal School with an education degree and taught in elementary schools for a decade. At Covenant OPC in Vineland, Rebecca met Hopwood Mullen, son of I. T. Mullen, a founding ruling elder. They married in 1939. The couple and their daughters, Rebecca, known as "Becky," and Grace, moved in 1946 to Wildwood, New Jersey, where Hopwood owned a Ford dealership. Rebecca developed a deep love for the Reformed faith under the ministry of Les Dunn, pastor of Calvary OPC in Wildwood. Rebecca grieved when she realized that Hopwood, who had left the church, was not a believer. Until his death in 1987, Hopwood lived on his own and supported the family.
Rebecca moved back to Newfield, New Jersey, where she and daughter Grace became members of Faith OPC in Elmer, New Jersey, in 1974. Rebecca taught Sunday school and was active in the Women's Missionary Society and the New Jersey Women's Presbyterial. Each summer, Rebecca and Grace returned to their Wildwood home and supported the Boardwalk Chapel's evangelistic ministry. They also spent weeks each summer at the French Creek Bible Conference in eastern Pennsylvania where Rebecca was the chief cook for two decades.
Grace, an assistant librarian at Westminster Theological Seminary in Glenside, Pennsylvania, spent her weekends with Rebecca in South Jersey. They often showed hospitality and enjoyed South Jersey's history and outdoor life. Independent, strong willed, and faithful, Rebecca lived by herself until she was ninety-nine. She entered Glory three months after turning one hundred.
Read more about Rebecca in her daughter Grace's chapter in the newly published book, Choosing the Good Portion: Women of the Orthodox Presbyterian Church, which is available at this website.