Today in OPC History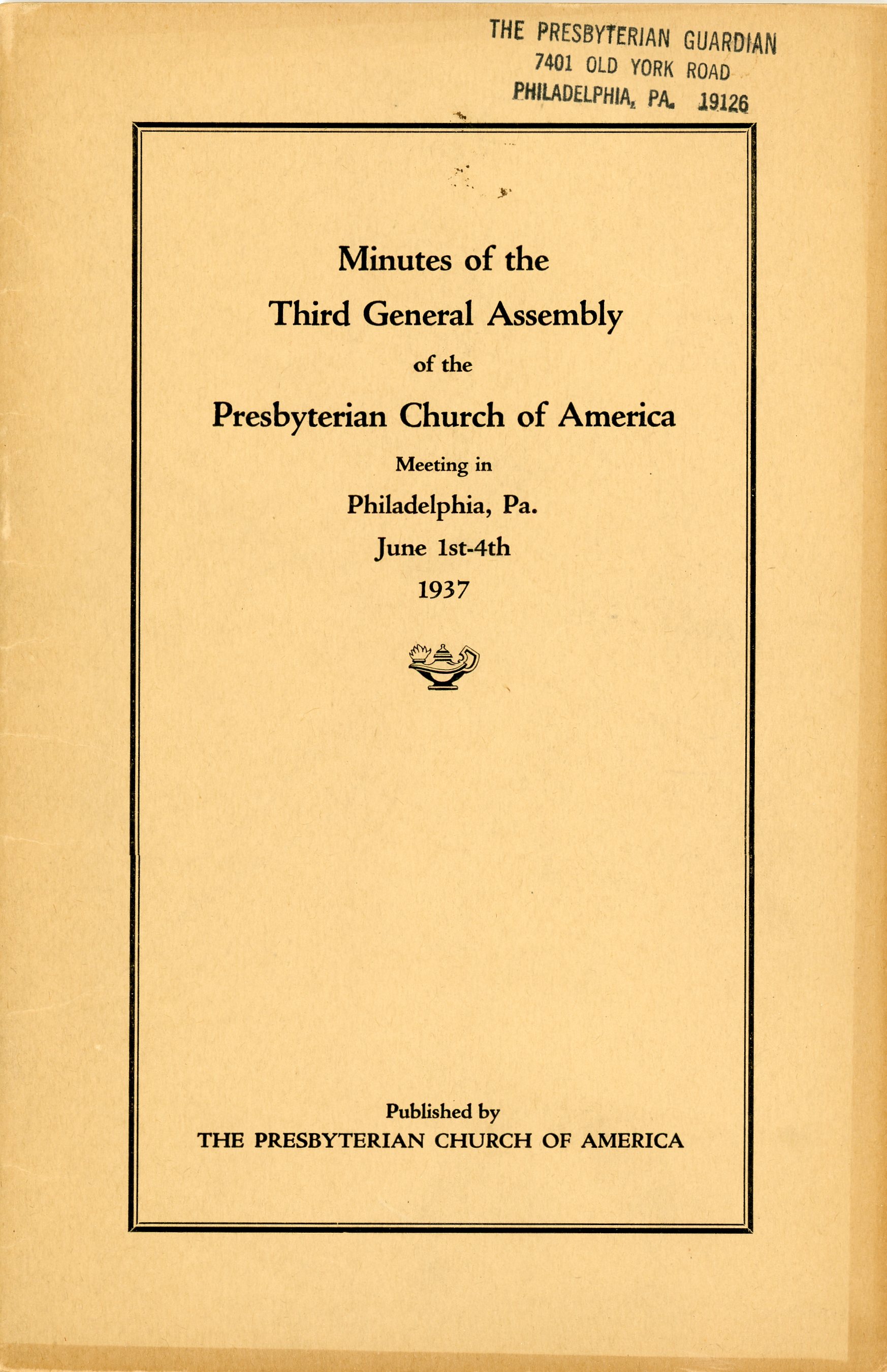 May 2
Docket for 1937 General Assembly
Available to commissioners on May 2, 1937 was the proposed docket for the sessions of the Third General Assembly of The Presbyterian Church of America (renamed Orthodox Presbyterian Church in 1939) meeting at the Spruce Street Baptist Church in Philadelphia.
TUESDAY, JUNE 1
10:00 AM Service of Worship with Sermon by Moderator of Second Assembly (J. Oliver Buswell) and the Sacrament of the Lord's Supper
2:00 PM Constituting of Assembly - Roll Call, Report of Committee on Arrangements, Election of Clerk of Assembly, Nomination, election, and installation of Moderator of Assembly
3:00 PM Presentation of Papers, Requests, Overtures, etc.
3:30 PM Report of Committee on Home Missions, etc., Election of members of Committee for class of 1940
7:45 PM Service in memory of the Rev. J. Gresham Machen, conducted by the Faculty of Westminster Seminary.
WEDNESDAY, JUNE 2
9:00 AM Devotional Service
9:15 AM Assembly called to order
9:30 AM First Report of Committee on Constitution, Final Consideration of THE FORM OF GOVERNMENT
12:30 PM Adjournment of morning session
2:00 PM Report of Committee on Foreign Missions
3:30 PM Report of Committee on Christian Education
7:45 PM Public Rally in the interest of Foreign Missions
THURSDAY, JUNE 3
9:00 AM Devotional Service
9:15 AM Assembly called to order
9:30 AM Second Report of Committee on Constitution, Consideration of THE BOOK OF DISCIPLINE
12:30 PM Adjournment of Morning session
2:00 PM Third Report of Committee on Constitution, Consideration of THE DIRECTORY FOR WORSHIP
7.45 PM Public Rally directed by the Committee on Home Missions and Church Extension
FRIDAY, JUNE 4
9:00 AM Devotional Service
9:15 AM Assembly called to order
9:30 AM Setting time and place of next Assembly, Approval of Minutes of Assembly
2.00 PM Afternoon session if needed, Adjournment of Third Assembly