Today in OPC History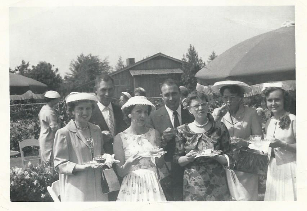 May 18
LaMirada, California
On the Lord's Day of May 18, 2008, Calvary OPC in La Mirada, California, celebrated its fiftieth anniversary as an Orthodox Presbyterian congregation with a worship service, luncheon, and a time of remembrance. The Rev. Donald Poundstone, whose father the Rev. Dwight Poundstone was the first pastor, proclaimed God's Word. Ruling elder David Nakhla reviewed the congregation's history with a Power Point presentation. Pastor Donald Buchanan led a devotional and some singing.
The church's roots grew out of a desire of the Olinger family (Denny, Bobbie, and their son Lynn; son Ron would be added to the family in 1954) to worship closer to their home than Long Beach where they were faithful members of Faith OPC. In 1951, weekly Bible studies and prayer meeting led by the Rev. Henry Coray, pastor of the Long Beach church, and the Rev. James Moore, pastor of Westminster OPC, Los Angeles, were held in the Olinger home. Regarding the inaugural bible study, Mr. Coray recalled in 1998, "According to Zechariah, we are not to despise the day of small things. It is always amazing to me the way tiny acorns grow to become sturdy oaks. Three people showed: a Mormon, a former Roman Catholic, and I've forgotten what was the background of number three."
Property was purchased in 1958 in what would become the City of La Mirada, and the Presbytery of California received the new work on May 14, 1958. On March 26, 1961, the new building was dedicated.
Picture: May and Don Foh (parents of OPC minister Thomas Foh), Betty and Howard Cobie, Ada Smith, Helen Bremer, and Bobbie Olinger at Nelson Baize's wedding