Today in OPC History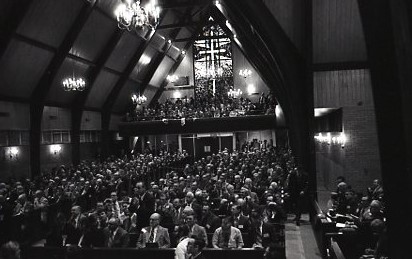 December 4
Presbyterian Church in America
On December 4, 1973, the first General Assembly of the National Presbyterian Church (later changed to the Presbyterian Church in America) convened at Briarwood Presbyterian Church in Birmingham, Alabama.
Ruling Elder W. Jack Williamson was chosen as the first moderator, with the Rev. Dr. Morton Smith elected as Stated Clerk. Agencies of the church that were established included Mission to the World, Mission to the United States (later, Mission to North America), and Christian Education and Publications.
The founding of the PCA in the south bore remarkable similarities to the start of the OPC in the north. Each involved an exodus from a mainline body infected with theological modernism. Both denominations were preceded by the opening of a seminary (Westminster in Philadelphia and Reformed in Jackson, Mississippi), seven years earlier. And both denominations soon changed their name in response to the threat of legal action.
The date of the first PCA General Assembly was also related to its claim of being the "continuing" southern Presbyterian church. On December 4, 1861, exactly 112 years to the day before the gathering in Birmingham, commissioners from the southern presbyteries that had renounced the jurisdiction of the Presbyterian Church in the U.S.A. met at First Presbyterian Church of Augusta, Georgia, and constituted the first General Assembly of the Presbyterian Church in the Confederate States of America.
The 1973 PCA Assembly included representatives from 260 congregations, mostly from Alabama, Mississippi, and South Carolina, with a combined total membership of about 55,000, organized into 16 presbyteries. In forty years the denomination grew to over 360,000 members in over 1,800 congregations and 83 presbyteries.
Two years later in 1975, the PCA joined with the Orthodox Presbyterian Church in the oversight of Great Commission Publications.
Picture: The First General Assembly of the PCA meeting at Briarwood Presbyterian Church.
- 2017