Today in OPC History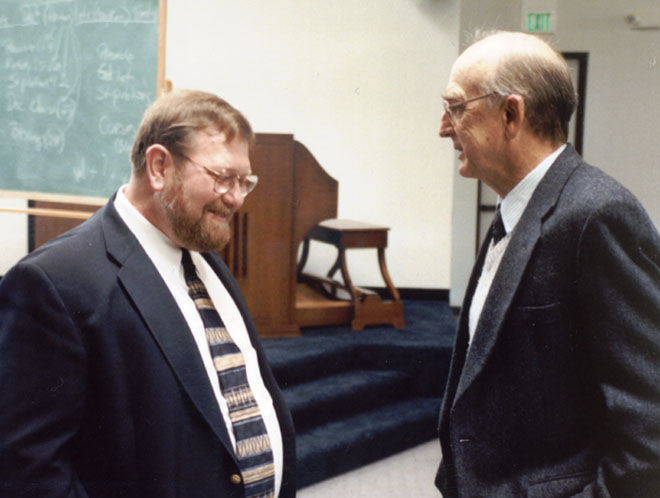 September 5
Westminster Seminary California
Westminster Seminary California convened its first student body on this day in 1980 with twenty pupils, who were addressed by J. I. Packer. At first, Westminster Seminary in Philadelphia's Edmund Clowney presided over both campuses, and original California faculty members consisted of Robert Strimple (Dean, Systematic Theology), Meredith Kline (Old Testament), John Frame (Apologetics), and Richard Kaufmann (Evangelism) of the OPC, and Allen Mawhinney (New Testament), David Sanford (Biblical Languages) and James T. Dennison, Jr. (Librarian) of the PCA, and Roger Greenway (Practical Theology) of the CRC. In 1981, Robert Godfrey (Church History), a ministerial member of the CRC, joined the faculty. In 1982, OPC minister Jay Adams became a faculty member.
Dr. Strimple took over as president in 1982 and helped oversee the move of the seminary from its temporary home in San Marcos to its permanent campus in Escondido. In 1988, he returned to full-time teaching, and he was succeeded by Robert den Dulk. Dr. Godfrey's long presidential tenure began in 1993 and continued until his retirement in July 2017. The new academic year marks the beginning of the Rev. Joel E. Kim's service as the fourth president of Westminster Seminary California.
Current faculty members include OPC ministerial members Steven Baugh, Bryan Estelle, John Fesko, and David VanDrunen. Over 90 graduates of the seminary have served in ordained gospel ministry in the OPC.
Picture: Robert Strimple (right) talking to Dick Gerber on the campus of WSC.
- 2017