Today in OPC History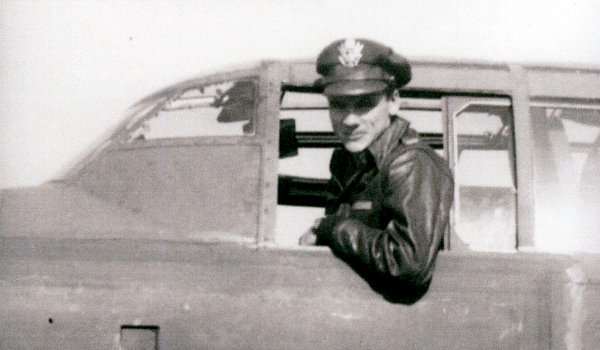 June 22
Glenn Black
As an explosion ripped through the B-25J bomber he was piloting on a mission over Leghorn (Livorno), Italy, on this date in 1944, almost severing his right arm at the elbow, Glenn T. Black's immediate thought was, "I should have become a minister!" The young pilot had been urged to prepare for the ministry, but he had a deep love of flying. The need for pilots in World War 2 led him to enter the Army Air Corps. The reasoning behind his remark: had he entered the ministry he would not have been over Italy on that date!
After missions in North Africa Glenn was based on Corsica. The mission on June 22 was his 56th. The explosion, likely caused by a prematurely exploding bomb, damaged all six B-25s in the flight that Glenn was leading, one of them so severely that it crashed into the sea. Glenn likely would not have survived bailing out over the Mediterranean and was not the only wounded crew member. One engine was inoperative, and the other damaged, but Glenn and his co-pilot were able to fly the plane back to Corsica, losing altitude the entire way. With the hydraulics shot out and the plane full of fuel fumes, Glenn resumed the controls and brought the plane in for a gear-up landing on a gravel runway. Thankfully there was no fire, and all on board survived.
As Glenn awoke after his initial surgery, discovering that his lower arm was still attached, he promised God that if his arm was saved, he would enter the ministry. Following hospitalizations, then graduation from Sterling College and Westminster Theological Seminary, Glenn T. Black was ordained as a minister in the Orthodox Presbyterian Church on November 7, 1958. He continued to fly and owned his own plane, which proved very helpful when he served as the missionary-at-large in the wide flung old Dakotas Presbytery. He retired in 1985.
Although the summer solstice in 1944 was the day before, Glenn understandably calls June 22, "My Longest Day." Those interested in hearing him tell the story of that day or reading his autobiography can find those linked from http://mahaffynet.net/?page_id=53.
Copyright © 2018, The Orthodox Presbyterian Church. All Rights Reserved.