Today in Church History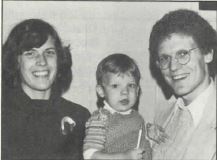 December 21
Home Missions 1980–81
On this date in 1980, the Committee on Home Missions and Church Extension's roster for mission works was being put before the church. Under the leadership of General Secretary George Haney, the Committee had approved the following home missionaries and church plants for financial assistance in the 1981 calendar year.
Albuquerque, New Mexico – Chris and Ginny Wisdom
Amarillo, Texas – John and Lois Hibelink
Augusta, Maine – John and Suzanne Mallin
Billings, Montana – Al and Polly Edwards
Burlington, Vermont – Ray and Rosemary Commeret
Cape Cod, Massachusetts – Wendell and Trudi Rockey
Columbus, Ohio – Bob and Karen Eckardt
Grants Pass, Oregon – Jay and Lucy Milojevich
Gresham, Wisconsin – Gordon and Judy Peterson
Matthews, North Carolina – Doug and Susan Felch
Novato, California – Dick and Jo Ellen Miller
Ocala, Florida – Jerry and Linda Quarles
Oxnard, California – Steve and Joanie Doe
Philadelphia, Pennsylvania – Wilson and Arla Cummings
Rochester, Minnesota – Larry and Holly Wilson
Rockport, Maine – Charles and Norma Ellis
Yuba City, California – Bill and Linda Fredericks
Picture: Larry, Holly and Adrian Wilson
Copyright © 2014, The Orthodox Presbyterian Church. All Rights Reserved.