Today in OPC History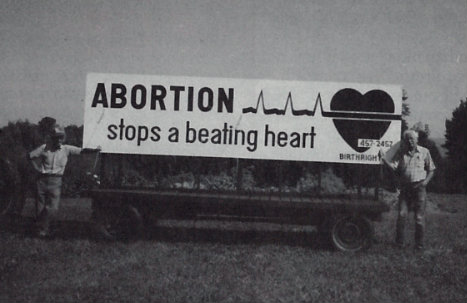 January 19
Bob Smies
On January 19, 1997, the Sheboygan County Chapter of Wisconsin Right to Life honored Robert Smies, a member of Bethel OPC in Oostburg, Wisconsin with its "Friend of Life" award at its annual Right to Life rally. Known for tireless involvement in the local pro-life movement, Mr. Smies received a standing ovation from the two thousand in attendance after giving his acceptance speech where he recited Psalm 139 and Ezekiel 33. Six years earlier, Mr. Smies had worked with members of Calvary OPC, Cedar Grove, Bethel OPC, Oostburg, and Cedar Grove Reformed on the creation of a portable pro-life billboard that could be placed on the farm of Mr. Ralph DeMaster next to I-43 north of the Cedar Grove interchange.
Picture: Bob Smies (left) and Art Sensink
Copyright © 2017, The Orthodox Presbyterian Church. All Rights Reserved.