Today in OPC History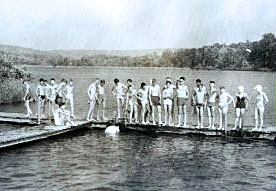 September 1
First French Creek Bible Conference
On this date in 1950, the first French Creek Bible Conference was taking place. Three Orthodox Presbyterian pastors, Robert Atwell, Glenn Coie, and Lewis Grotenhuis took the lead in securing the meeting place at the French Creek State Park and arranging for the conference speakers and activities. Edmund Clowney was the main morning instructor teaching on the missionary journeys of Paul while Ed Kellogg preached the nightly sermons.
Arthur Kuschke also taught a series of lessons on the Bible and Nature, and Messrs. Kellogg, Grotenhuis, Coie, Atwell and John Cllelland all taught one lesson each on the Christian life.
Miss Charlotte Milling (who became Mrs. Arthur W. Kuschke in the following year) served as the director of music. Mr. Clelland organized the recreation time which included softball and vollyball. Mr. Coie and Miss Lourae Poling supervised the swimming periods. Mary Atwell and Ruth Grotenhuis were in charge of the kitchen staff.
The cost for each camper was $15 for the week. Over one hundred campers from the eighth grade through high school participated.
Picture: Swimming at French Creek in the 1950s.
Copyright © 2015, The Orthodox Presbyterian Church. All Rights Reserved.