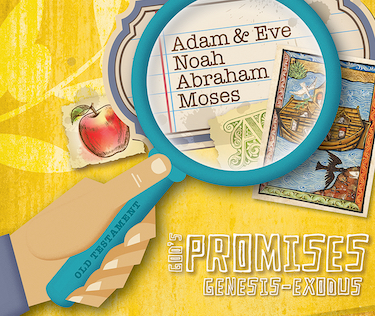 Committee on Christian Education Feature
Heather Cossar
"I will be your God, and you will be my people." This sentence is "the heartbeat of every divine covenant in the Bible" (O. Palmer Robertson, Covenants). When you realize that Scripture is held together by the scarlet thread of the covenant of grace, you marvel at the love of our heavenly Father.
Great Commission Publications is introducing new Bible studies for teens in fall 2019 called G2R (Genesis to Revelation) God's Promises. This series will take students on a discovery of amazing "aha" moments in God's covenant of grace. Beginning with the seed of the first promise in Genesis 3:15, your teens will wonder at the marvelous unfolding of God's redemptive plan through Christ. They will see God's promises made and kept through the lives and events of fearful, failing, and sinning men and women. And they will come to understand that our triune God is a covenant God—the God who in the person of Jesus bore the curse of the covenant so his people would receive the blessings of his promises.
G2R God's Promises
G2R God's Promises builds on Show Me Jesus for children and G2R Bible Survey for preteens/younger teens. By their teenage years, your students have a solid foundation of people and events in the Bible and can go to a deeper level—studying God's covenantal promises, their fulfillment in Jesus, and the implications for covenant living.
How does G2R God's Promises help teens discover that Scripture is held together by the scarlet thread of the covenant of grace?
By exploring God's unfolding covenant promises to Adam, Noah, Abraham, Moses, and David and their fulfillment in Jesus Christ
By tracing the gospel from the promised seed in Genesis to Jesus, the promised Messiah in the New Testament
By emphasizing interactive discovery using the Bible as the primary source
By encouraging time alone in the Word using the aha! devotional booklet
By applying these truths to covenant living today, equipping students to grow in trusting and obeying God out of gratitude for his great salvation
G2R God's Promises includes eight studies of thirteen sessions each (104 in all) with four studies devoted to the Old Testament and four to the New. Students will discover covenant connections and be astounded to see that not only do the Bible stories fit together in one big story, but that God entered into a covenantal relationship with his people, making and keeping promises over thousands of years, ultimately fulfilled in the person and work of Jesus Christ.
The Goal of G2R—Genesis to Revelation
There are two pillars in the G2R series: Bible Survey and God's Promises. Both teach the historical-redemptive plan of God from Genesis to Revelation, but they have different
emphases. G2R Bible Survey focuses on the who, what, where, and when of God's plan—an exciting journey through every book of the Bible. G2R God's Promises zeroes in on the why and how of God's covenant of grace.
G2R Bible Survey, flexible for fifth grade through middle school, is designed for preteens and young teens. By now, they understand chronology and history, and they can see God's plan through the Bible. They are able to connect the dots of Scripture in ways they didn't before. They can take the stories they've heard as children and put together the big story of God's redemption through Christ. And while they do this, they are taking ownership of their faith by spending time with the Author of Scripture during personal devotions using Devo. This overview of every book of the Bible lays an essential foundation for studying God's covenant in G2R God's Promises.
G2R God's Promises, flexible for middle and high schoolers, centers on God's redemptive dealings with his covenant people. It uses powerful visuals like the "God's Covenant of Grace" poster (see photo) and interactive Bible studies to get students into the Word. It also includes social media posts for leaders to connect with students or their parents during the week with inspiring illustrations and truths from God's Word.
These two pillars are crucial in the Christian education of our kids, helping them "grow up into salvation" (1 Peter 2:2). In this age of broken promises, think how reassuring it will be for your teens to grasp that the one true God is trustworthy, full of grace and love, and Immanuel, with them. They will be encouraged as they see God choose and use his sinful people, and how he keeps pursuing them—all the way to the cross.
The author is production manager at Great Commission Publications.