Reviews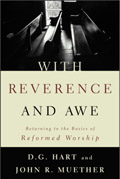 With Reverence and Awe: Returning to the Basics of Reformed Worship
D. G. Hart and John R. Muether
Reviewed by: Jesse Montgomery
Date posted: 10/09/2005
With Reverence and Awe: Returning to the Basics of Reformed Worship, by D. G. Hart and John R. Muether. Published by P&R, 2002. Paperback, 203 pages, list price $12.99. Reviewed by Jesse Montgomery, member of Immanuel OPC in Oakdale, Pa.
Why read a book on worship? The topic of worship should be of perennial concern to the church. It is our first and highest calling. and it comes from God himself. The authors. both OP ruling elders. emphasize that doctrine and worship go hand in hand. What we believe bears directly on how we worship; conversely, the form and content of our worship mirror what we believe.
But why read this book on worship? The authors contend that faithfulness to Reformed doctrine also means commitment to distinctively Reformed worship. They demonstrate how Reformed doctrines, such as the Creator-creature distinction, divine sovereignty, total depravity, a high view of the Sabbath, and a Reformed view of the church (and the world) all come to expression in Reformed worship.
They also address several issues that are being debated in many Reformed churches today. In this connection, they discuss the regulative principle, giving careful attention to the distinction between elements and circumstances. They unpack the dialogical character of worship, and they show how the covenantal dialogue between God and his people speaks to the question of who should lead in worship. And finally they address the issue of song in worship, showing that many of the observations that they have made concerning other aspects of worship also bear on how and what we sing in worship.
This book also addresses the consequences of abandoning the Reformed habits of worship. A disregard for these distinctives in worship should not be seen as an appropriate adaptation to today's culture or as evidence of open-mindedness, but rather as "an indication that many in the Reformed camp no longer see the implications of their theology for their worship services."
For all its wonderfully rich content, this is not a difficult book to read. It was specifically designed as material for adult Sunday school, and it is well suited to this task. With an introduction, eleven chapters, and a conclusion, it fits perfectly into a typical teaching quarter, and the chapters, about fifteen pages long, can easily be read and digested from week to week.