Reviews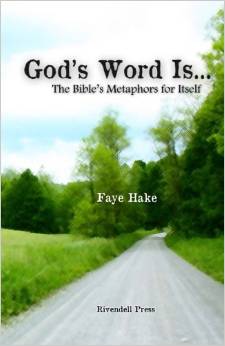 God's Word Is…: The Bible's Metaphors for Itself
Faye Hake
Reviewed by: Allen D. Curry
Date posted: 09/14/2014
God's Word Is…: The Bible's Metaphors for Itself, by Faye Hake. Rivendell Press, 2012. Paperback, 333 pages, list price $13.42. Reviewed by OP minister Allen D. Curry.
Sometimes conservative Christians limit their interest in what the Bible says about itself to inspiration and inerrancy. But if we do, we miss much of the rich teaching of the Bible about its own character.
Faye Hake examines the way the Bible looks at itself. She explores the multitude of riches found in the figures of speech that describe the Word of God. She not only opens up the various metaphors, but also shows their usefulness in Christian lives.
Hake guides the reader through a study of the Bible as lamp, map, path, rain, bread, mirror, fire, pure gold, sword, hammer, counselor, foundation, great spoil, double-edged sword, and honey.
By constantly comparing scripture with scripture, the author also helps the reader gain a better grasp of the overall teaching of the Bible. In all of her reflections, she directs the reader to what the Bible has to say about itself.
The author demonstrates the relevance of each metaphor to practical Christian living. She makes many references to her years as an OP missionary in Taiwan. The reader is invited into her home and her heart as she explains the meaning and use of each metaphor.
The author tries to keep her work centered on the Lord Jesus. She always looks at the way the Word made flesh can be related to the written Word. Many theologians avoid this matter, but Hake does a good job of reminding the reader of this vital relationship.
Faye Hake has garnered many illustrations of what she is trying to communicate from her years of homeschooling her own children and working with other parents. Her stories of home life are down-to-earth, sometimes amusing, and generally to the point.
Throughout the book, the reader will find genuine transparency. She connects with the reader as she talks about her life with nine children, a missionary husband, and life on different continents. She is not embarrassed to discuss how the devil has attacked her and how the Word has confronted and comforted her. Her openness about some of her personal struggles gives the reader the sense that she is writing about real-life Christianity.
One of the strongest points in the book also proves to be a difficulty at times. While Hake is to be commended for trying to maintain a consistent Christological focus, she sometimes misses the point she is trying to make. There are times when she tells the reader that we should recognize that Christ was the living Word, and then she spends all her time looking at something about Christ without tying it to him as the incarnate Word.
This reservation is minor in comparison with the usefulness of the book. Parents and teachers will find a multitude of helpful insights in this fine work.