Today in OPC History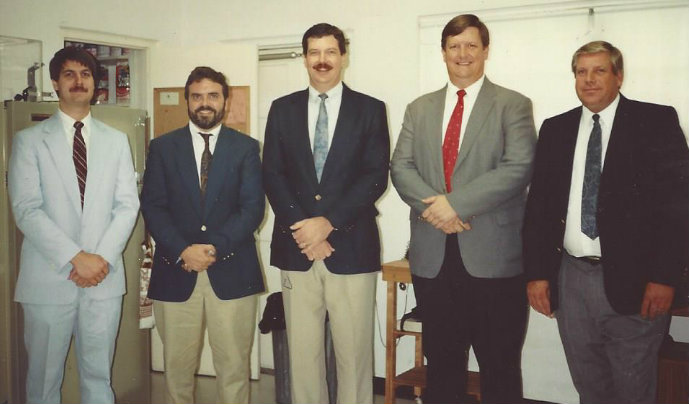 July 23
John Muether
On July 23, 2016, the congregation of Reformation OPC in Oviedo, Florida threw a surprise party for John R. Muether, celebrating the 25th anniversary of his ordination to the office of ruling elder on July 21, 1991. Since his ordination, John has served uninterrupted as a ruling elder in the OPC, first at Lake Sherwood OPC from 1991–2003, then at Lake Sherwood's daughter church, Reformation OPC, from 2003–present.
Following in the footsteps of his father, Dr. Herbert R. Muether, who served for decades as a ruling elder at the Orthodox Presbyterian Church of Franklin Square, New York, John has committed himself to serving faithfully as a churchman in the local, regional, and denominational efforts of the church. For many of the years of his eldership, John served as Clerk of session, on committees of the presbytery like Candidates and Credentials, and on the OPC Committee on Christian Education and the Committee on Arrangements. Since 1999 he has also labored in the distinguished position of Historian of the OPC.
John has authored or coauthored numerous books and articles, including Cornelius Van Til: Reformed Apologist and Churchman, With Reverence and Awe: Returning to the Basics of Reformed Worship, Confident of Better Things: Essays Commemorating Seventy-five Years of the Orthodox Presbyterian Church, and Fighting the Good Fight: A Brief History of the Orthodox Presbyterian Church. After working as Librarian at Hope College (1984–1987) and Westminster Theological Seminary (1985–1989), he has served at Reformed Theological Seminary in Orlando the past thirty years where he is currently Professor of Church History and Dean of Libraries.
Picture: (left to right) Elders Frank Jones, John Muether, and Bill Keller, and Deacons Boyd Roebke and Ron Pruim on July 21, 1991.