Today in OPC History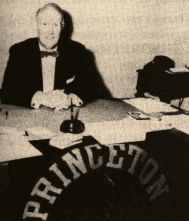 January 24
Charles Woodbridge
On January 24, 1902, Charles Woodbridge, the first general secretary of the Committee on Foreign Missions, was born in Chinkiang, China to Presbyterian missionaries Samuel Woodbridge and Jeanie Wilson Woodrow. His father traced his ancestry to Lollard preacher John Woodbridge of England. His mother was first cousin to U.S. President Woodrow Wilson.
Following his graduation from Princeton Seminary in 1927, Mr. Woodbridge was ordained by the Presbytery of New Brunswick. In 1934, Woodbridge joined his former Princeton professor J. Gresham Machen on the newly created Independent Board of Presbyterian Foreign Missions. Along with Machen, Mr. Woodbridge was disciplined by the PCUSA for his association with Board, and he joined with Machen in the founding of the Presbyterian Church of America on June 11, 1936.
In June 1937, Mr. Woodbridge resigned from the Independent Board and was appointed as the first general secretary of the Committee on Foreign Missions. Later that year, he resigned as general secretary to accept the pastorate of First Presbyterian Church, Salisbury, North Carolina. He would go on to pastor the Independent Presbyterian Church, Savannah, Georgia (1950–57), and serve as Professor of Church History at Fuller Seminary, Pasadena, CA (1950–57).
The last three decades of his life, Mr. Woodbridge served as a Bible Teacher at large with his final ecclesiastical membership in the Orlando Bible Church, Orlando, Florida. He died on July 16, 1995.
Picture: Charles Woodbridge at Princeton