Today in OPC History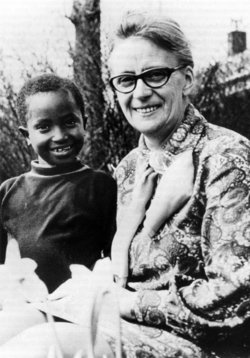 May 27
Anna Strikwerda
On Monday, May 27, 1974, four armed members of the Eritrean Liberation Front stormed the Mihireta Yesus (Compassion of Jesus) Hospital, part of the Orthodox Presbyterian mission in Ghinda, Eritrea. They stole medical supplies and abducted two nurses as hostages. One of them, Deborah Dortzbach had come with her husband, Karl, for an internship on the mission field before he finished his training at Westminster Seminary. Mrs. Dortzbach was expecting, and the Lord spared her and her child after 26 days of captivity.
When the other nurse, Anna Strikwerda, struggled to keep up with her captors as they fled the hospital, she was beaten and then shot in the head, the first missionary martyr in the history of the Orthodox Presbyterian Church. In a sermon during a memorial service for Miss Strikwerda, John Van Harmelen likened the death of one nurse and the release of another to the fate of James and Peter in Acts 12:
"Anna Strikwerda was shot to death. Deborah Dortzbach landed in freedom at Kennedy Airport. But she wants to return to Ethiopia. The one has departed to be with the Lord and the other remains to serve the Lord.
"The death of James and the deliverance of Peter confront us with a problem we can never solve. Without any explanations we stand with our questions before God's omnipotence. We do not understand God's motives. Why was the one killed and the other spared?
"And still … it is our heavenly Father who unerringly weaves the threads according to his divine pattern, for Anna as well as Deborah. God deals sovereignly with his children in the death of James and the deliverance of Peter. Sorrow and joy lie side by side, in the same chapter, Acts 12.
"Anna died in a desolate place somewhere in Ethiopia. For Deborah a meeting was arranged at the airport: 'friends sang joyful hymns.'
"And yet … both were saved, the one for the church triumphant, the other for the church militant."
Picture: Anna Strikwerda on mission field with young friend
Copyright © 2020, The Orthodox Presbyterian Church. All Rights Reserved.